Custom Search
The Younger Motocross Rider
So your thinking about having your child take up the Motocross sport. Balance is the key in motocross riding. How young is to young to be preparing your little bundle of joy to corner like the best. Well about 18 years ago Step 2, the company known for making wonderful toddler climbing and ride on toys, produced a great tool for teaching children balance on two wheels. The size of this little gem is perfect for children 2 and up.
The wheels are rubber, rounded and the width of a standard bike. The only thing missing are the peddles. Put your child on and as they scoot along they gain the confidence to speed up and lift their legs for short periods. Eventually the child learns the balance necessary for a two wheeler without training wheels and has fun doing it. Many children have gone straight from this little gem to a two wheeler without training wheels by age three. All Motocross enthusiast know what that means, they are ready for their first Motocross Bike. Your child will be jumping like the motocross pros in no time.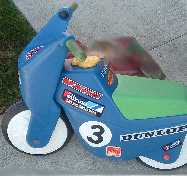 Children as young as three and four can master Motocross with the right tools and a sense of humor.
Caution the STEP 2 glider should be treated as a bike. Have your child always wear a helmet when riding on it. It is almost impossible to find the STEP 2 glider we used years ago. Contact STEP 2 and hopefully if enough people request the bike they will begin to sell them again.
When Purchasing your child's first Motorcycle, MX ride, Consider the height of your child and the strength of your child. You want a motorcycle that your child can comfortably fit and have control over.
Safety equipment is very important and you should never allow your child to ride without wearing all the necessary safety gear. The helmet is one of the most important pieces of motocross safety gear your child will wear. the helmet should fit your child's head appropriately. Avoid purchasing a motocross helmet that "your child will grow into". A helmet should not be purchased used. A used helmet may have been in an accident and may have some integrity loss. A helmet should not be used once it has received an impact.
Chest protectors, gloves, Eye protection, helmet, and boots should all be worn every time your child rides. Also available are knee guards, elbow guards, and kidney belts.

Support the Kids Just Want to Ride Act
Finding Family Motocross Tracks

Motocross is a great sport for children and families to become involved. Families spend weekends together outside interacting without the distraction of Televisions, video games and computers. Motocross can be an expensive sport to enter into at first. But there are many used MX bikes available. A used MX bike is a great way to enter the sport and you and your child can learn all aspects of the sport together. When children are left to develop their skills and grow within the sport at their own pace, the will child grow into a responsible competitive rider.

Email: mmstone@aol.com

:

Know of a Motocross Track or website link to a track not listed

motocross@atomsfamily.net
Back To the Top

©atomsfamily.net 2006 2007 2008 2009 2010 All Rights Reserved. No content contained in the atomsfamily.net website including photos may be used or displayed by anyone or any other website without the signed written approval obtained from the atomsfamily.net website's authors.
Motocross How to Info: Tips:
Cornering
|
Holeshots
|
Jumps
|
Very Young riders
Motocross tracks in the United States:
For information about Motocross riding tips administrator@atomsfamily.net If you don't use outlook normally just copy and past address into your email