Lego Star Wars The complete Saga for Playstation 3.
Unlock Extra Characters
When you start playing find bar in Mos Eisley Cantina and select "ENTER CODE" Enter Code to Unlock
HHY697-Boss Nass
QRN714-Captain Tarpals
AAB123-Droid Tri-Fighter
CLZ738-Force Grapple Leap
PMN576-General Grevious
HUT845-Imperial Shuttle
EVILR2-r2-q5 droid
INT729-Tie Interceptor
To submit a cheat code or game tip Email us at ps3@atomsfamily.net and put the name of the game in the subject line.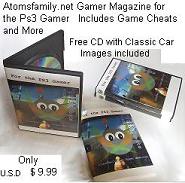 PayPal Payments only.
Atomsfamily.net Gamer Magazine for the PS3 Gamer is an easy to travel with game mag packed with game hints and cheats as well as articles about the PS3 and PS3 games.The June Edition comes with a Free Cd containing classic car images for you to use to design your own wallpapers etc...